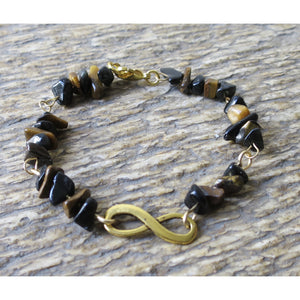 Forever Focused Success Energy Motivation Bracelet
Sale price Price $ 13.99 Regular price $ 20.00
Forever Jewelry  series was designed to assist you in the attainment of your chosen goals.
Made with genuine gemstones., the Forever Jewelry series will help you to vibrate at  the correct frequency of positivity and keep you on track while you work  toward your desires to build your perfect life. 
The Forever Focused Success  Bracelet combines the power of Tigers Eye and Obsidian. Two powerful stones that will help you to gain the confidence ,motivation,and focus that is needed to attain success in whatever you choose.
An infinity charm is added as a symbolic reminder to let you know you can have whatever you focus on. That is your forever God-given gift here on Earth.