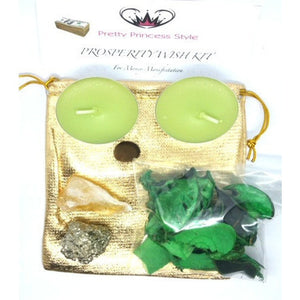 Prosperity Wish Kit
Sale price Price $ 14.99 Regular price
Prosperity~ Everyone wants it and the world has more than enough to give. Start working to make your special dreams of wealth, health and happiness come true. 
The PPS Prosperity Wish kit includes everything you need to start working to bring your dream to fruition. Each kit includes easy to follow instructions and the following special items:
2 Charged Prosperity Candles
2 Prosperity Stones ( Pyrite & Citrine)
1 Sq. Parchment Paper
1 Vial Prosperity Drawing Oil
1 Sm. Bag Prosperity Potpourri
1 Prosperity Incense
1 Draw string Bag
A special affirmation is also included to make your wish even more powerful. 
May your be showered in riches! Luck and Blessings be with you!