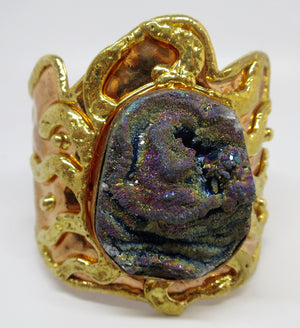 Allura Power Gems- Giant Druzy Brass & Copper Bracelet Cuff
Sale price Price $ 80.00 Regular price
Druzy energy is very uplifting. Known as a "Dream Stone" Druzy It helps to awaken you to self exploration and spiritual growth.It is a great stone to use when working on manifestation or new cycles of life. It is also helpful in cultivating creative ideas.
It's radiant energy is intoxicating. Wear a Druzy to feel, happy, more beautiful , and confident. And it's protective too! Wear to keep your energy secure, safe, and balanced.
A large Brass & copper cuff with a magnificent genuine multi color Druzy crystal.
Copper & Brass- Added Energy
Center Druzy stone measures a whopping 41.05mm.