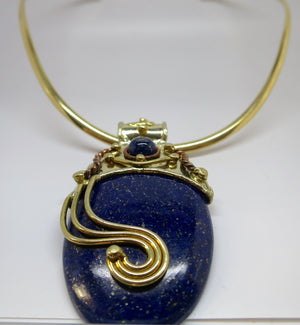 Allura Power Gems- Golden Brass & Copper Lapis Lazuli Power Pendant
Sale price Price $ 60.00 Regular price
A stone of the mind. Both mental and spiritual. An expansion of total awareness can be achieved when working with this stone. 
Lapis Lazuli stimulates the mind. It brings wisdom, is helpful in problem solving and coming up with new and fresh ideas. It creates a desire for knowledge. It supports the ability to understand new ideas and concepts with ease. Lapis sharpens recall and helps you to retain what has been learned. Communication is also enhanced and improved  with this blue wonder. So it's a great stone to wear for public speakers. 
Spiritually, Lapis Lazuli stimulates intuition and psychic abilities. Lapis Lazuli is a powerful stone for those who seek spiritual development.
Relationships energy can be improved with Lapis Lazuli stone. Lapis Lazuli promotes  faithfulness ,respect, and communication within your special union.
Available in 2 Options
Option 1 Pendant Only
Option 2 Pendant w Brass Neck Collar