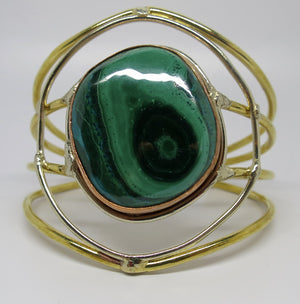 Allura Power Gems-Golden Brass Malachite Wire Bracelet
Sale price Price $ 50.00 Regular price
Malachite is a stone of transformation. It encourages risk-taking and change. It is a stone to help you  break unwanted ties that you may have outgrown but may be  still keeping you back.
Malachite helps you to  release outworn patterns, and teaches you how to take responsibility for your own  actions, thoughts and feelings. Malachite creates the strength  to help you shed the "victim" role.
Malachite is also a great stone for good fortune and prosperity.This is also a facet of change. Malachite assists you in transforming your feeling of "lack" into the feeling of abundance. Use Malachite when working to bring better career choices or better work. All of these positive changes can help boost self confidence and and success.
Use to keep you protected, motivated, and stone in heart.