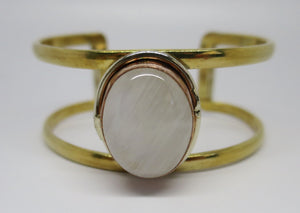 Allura Power Gems-Moonstone Brass Cuff Bracelet
Sale price Price $ 50.00 Regular price
Moonstone is the ultimate balancer for woman. It helps to regulate the hormones and enhances feminine energies.
It soothes emotional instability and stress. If you are oversensitive, Moonstone  stabilizes the emotions, providing calm.  Moonstone enhances intuition, promotes inspiration, success and good fortune in love and business matters.
The picture captures the beautiful flash of light that Moonstone so beautifully emanates.