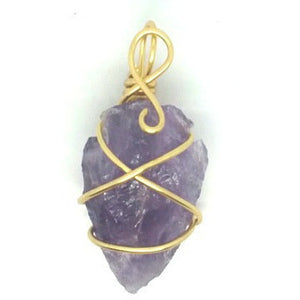 Amethyst Gemstone Arrowhead Power Pendant
Sale price Price $ 18.00 Regular price
Beautiful carved arrow head out of genuine Amethyst. 
A highly spiritual stone, Amethyst is your connection to the divine. It helps to align you spiritually  and still the mind. 
Amethyst is a good all purpose stone as well. It will balance your mind to strengthen thinking process and promote creativity.
It purifies the aura of negativity energy and is noted for use to strengthen psychic development. When working with Amethyst, your intuition is enhanced.
It is a great talisman for focus and success. 
Due to the nature of this product, sizes  and wire wrap may vary from the image shown.