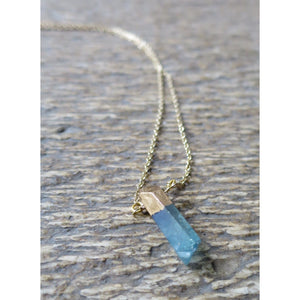 Moda Elektra Aqua Aura Point
Sale price Price $ 14.99 Regular price $ 25.00
Beautiful Aqua Aura point handprinted with gold or silver  leaf. 
Aqua Aura is a highly powerful, highly vibrational crystal. If you are looking for a crystal that can do it all, this may be the one.
Aqua Aura is  genuine quartz crystal that is infused with pure gold. The special addition of pure gold provides the beautiful aqua color change and amplifies the quartz with even more powerful conductivity.
Aqua Aura is more shielding than aquamarine due to the infusion of gold.A true master vibration crystal ideal for healing work and meditation.
Use To:
Heighten Communication(throat chakra)
Enhance intuition
Energize mental abilities
Attract wealth and success
Promote clarity of thought
Shield from psychological & psychic attack
Release stress
Attract positive energy
Cleanse & clears auric field 
 This this item is available in Gold and silver.Please specify at time of order Each crystal is unique and may differ  a bit in color and shape.