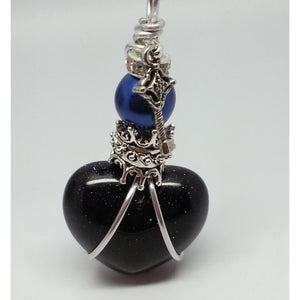 Blue Goldstone Pretty Princess Power Pendant-Key To My Heart Collection
Sale price Price $ 28.99 Regular price
Although technically a man n made stone, Blue Goldstone has found its way into the gem healing category. A mixture of glass with particles of copper,magnese, cobalt,and chromium, this shimmery stone is a beautiful as the night sky..
Use this Blue Goldstone  power pendant  to rid yourself of negative and unwanted energies. A perfect stone for meditation and deep thought.
A stone  for acting professionals. Keep one with you to gain positive opportunities toward your "Big Break"
A good stone of protection.
Comes with free 18"inch silver-tone chain.