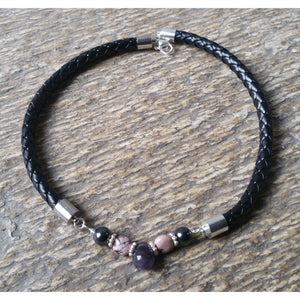 Breaking Bad Habits & Addictions Faux Leather Choker-Amethyst Rhodonite Hematite
Sale price Price $ 24.00 Regular price
Crystals are wonderful tools to help us shift negative patterns that may be causing us unnecessary harm. This could be a harmful addiction or a bad habit that may be preventing us from living a happy and comfortable life. 
The Breaking bad Habits Crystal Therapy necklace was designed with the correct prescription of Natural healing crystals to aid you in your time of need to help you stay on course and kick your bad habits or addictions.
This powerful therapy necklace includes
Amethyst- Known as the"Stone of Sobriety" In lore said to prevent drunkenness but also help us when dealing with other addictions as well(i.e.. Food addictions,substance abuse,toxic relationships etc..) Giving you the strength to kick the bad habits. Great for keeping calm and stress free.
Rhodonite- A powerful heart healer. Helps to bring out the past traumas that are often the cause of the negative issue.  Rhodonite will help  you deal with them effectively, opening the heart center, and providing you the self respect that is needed to release them.  Wearing Rhodonite will open you up to more love for yourself and from others.
Hematite- A stone of strength. A perfect balance because when dealing  with the release of bad habits, extra strength is definitely needed. Hematite grounds and stabilizes the energy. Decreases negativity and balancing body,mind, and spirit. Hematite s a stone to help boost self confidence which is often the cause of addictions when low. Clears the mind helping you to think more logically
Made with faux leather rope