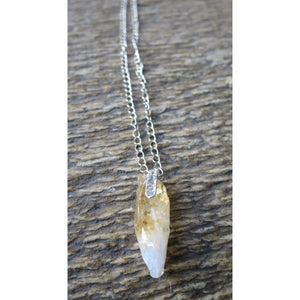 Citrine Rhinestone Pendant
Sale price Price $ 20.00 Regular price
Citrine is a powerful stone that is often used when working toward prosperity manifestation. Wear to bring more abundance energy into your life.
Citrine is known as the stone of the sun, Citrine will help you shine with energy,vitality, happiness , and self confidence. 

Citrine also helps to increase your confidence and self esteem. When we feel confident,we are more inclined to work harder to turn our dreams into reality. Because we have more belief in ourselves and our ability.This is because confidence gives you the "Can Do" attitude rather than the "I can't"attitude . Citrine also helps protect your energy from those who are energy stealers with pessimistic attitudes. That means when your dreams and aspirations are high, no one can knock you down by telling you your dream is impossible. 
Stone size, shape, and color may vary from piece to piece due to the natural variations in Mother Nature's design. Picture images depict size variations.