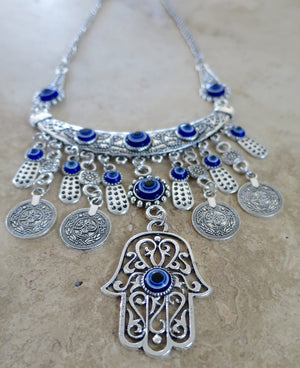 Evil Eye bohemian Coin Necklace
Sale price Price $ 12.99 Regular price
Are you looking to  banish negativity and Ill will from others while still looking fashionable?This powerful  Evil eye necklace may just be what you have been looking for.
The Evil Eye  is a one of the most powerful ancient symbol of protection,The evil eye is believed to be placed upon you  by someone who is envious, jealous, or covetous. It is believed that wearing the special symbolic talisman will help protect you from this negative energy that is sent your way. 
Bohemia Style Evil Eye Protection Necklace  measures 20 inches with 1 3/4 extender chain.