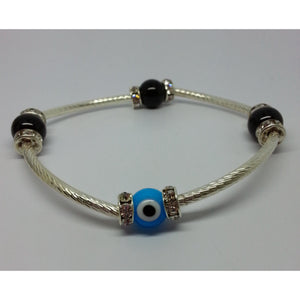 Evil Eye Protection Bracelet
Sale price Price $ 12.00 Regular price $ 19.99
Are you a princess with a lot of jealousy that surrounds you? Don't worry... That is a common thing for a pretty princesses to have to deal with. This evil eye protection bracelet may be just the thing you are looking for.
As old as time. The Evil eye is a symbol of protection from those who wish us harm and misfortune. This special protection charm will help remind you that the ill thoughts of others have no affect on you! Made with genuine  Onyx gems help fortify and amplify this protective energy.
Made on stretch cord. 7.5 inches. One size may fit most.

For curio only