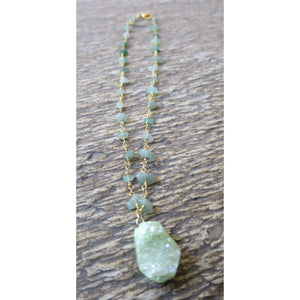 Green Druzy Pendant On Aventurine Chip Wire Wrapped Neckchain
Sale price Price $ 21.99 Regular price
Shimmery green Agate druzy with lucky Aventurine wire wrapped neck chain. 
Aventurine is a emotional heart healer. It is a good anxiety reducer that will help relieve stress.
Aventurine Crystal energy is a good stone to wear for luck and prosperity. Aventurine balances spacial energy to bring a "Feel Good" Environment around you. It is also a great leadership stone providing you the strength to work toward your goals and build a better life.
Necklace measures 19" in.
Pendant Measures
H- 25.09
W- 19.54
Items is made with gold tone wire