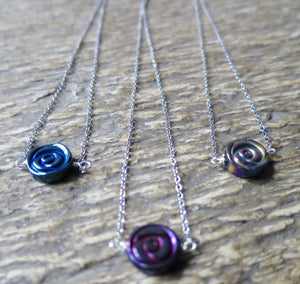 Hematite Rose Necklace
Sale price Price $ 9.99 Regular price
Don't let this delicate Hematite necklace fool you. Hematite is a very powerful, multipurpose stone.
Hematite works wonders when helping to remove negative feelings.Hematite Breaks up negative vibrations.The stone for the sharper mind.Hematite  will assist in the development of logical thought processes. Hematite enhances memory and  deep thought. Hematite may also help  in the reevaluation of personal issues so you can gain knowledge on changing negative life patterns. Use for higher learning.
Necklace measures 18.5 inch.