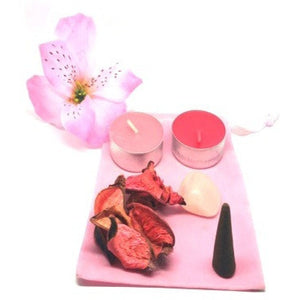 Love Wish Kit- Find Your Perfect Soulmate/Rekindle Relationship
Sale price Price $ 8.99 Regular price $ 14.99
Are you looking for the perfect soulmate? Are you having trouble meeting him or her? Or is your current relationship lacking love and passion? Well look no further. The PPS Love Magic Kit may just be your answer. Using the power of intention and the power of gemstone energy, you can start working to make that special someone, with the qualities you desire , come into your life. Or  you can use to rekindle the lost loving feeling in a stagnant relationship.
Each kit comes with easy to understand,easy to follow directions and all the supplies that are need to perform your special wish.The only thing that is needed is your desire and intention energy to make your wish for the perfect mate come true.
You may  also choose  as a premium upgrade the larger heart shaped gemstone crystal instead if the tumbled stone in Rose Quartz that is included in the standard kit. With the premium option, you may chooser 1 of the following:
Rose Quartz Heart
Rhodonite Heart
Cat's Eye Fiber Optic Stone.