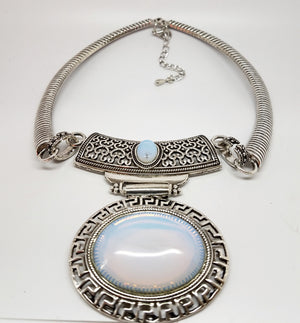 Opalite Medallion Necklace
Sale price Price $ 19.99 Regular price $ 35.99
 Opalite Is a great stone with many helpful properties  
It is a great stone when working to understand the self and is often  used for self exploration and reflections. Opalite is particularly helpful for those going through change.   It will assist in alleviating  fear helping one  to  accept change.
Opalite is a  peace bringing stone. It can be carried to help relieve stress and induce  relaxation
Opalite aids in stabilizing mood swings. It's calming and soothing energies are good for helping those  with anxiety and  depressive and/or aggressive moods.
It is known to enhance psychic abilities and aid in inducing visions.