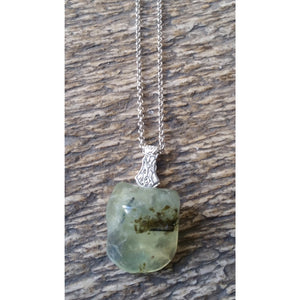 Prehnite Pendant W/ Sterling Silver Chain
Sale price Price $ 34.99 Regular price
Simply exquisite piece of precious  Prehnite stone on a  beautiful baroque bail. 
Prehnite is known as the "Prophecy Stone" It helps you to get in touch with your spiritual side. Prehnite boosts prophetic abilities 
It is good for those going through change. It aligns you with the vibrations of peace and renewal. This will help you to release the thought that these changes you may be going through are too much of a  challenge and provide you the strength to make it through. 
Prehnite helps to keep you alert when you are feeling mentally tired. Wear this stone to keep focused to handle matters at hand.
Prehnite is the perfect stone for people that cannot  quit the constant chatter with in the mind. It will help you sort your thoughts and stay on track with the thoughts that truly matter. Helps you release rigid thoughts that keep you from what you desire. 
This is a great stone to open you up to fresh ideas, people and places. Get rid of the old thoughts that keep you down and move forward to creating the happy life you deserve. 
Comes with an 18" Sterling Silver Chain. 
Each piece is unique due to the wondrous variations in nature. Item may differ slightly from the item pictured.