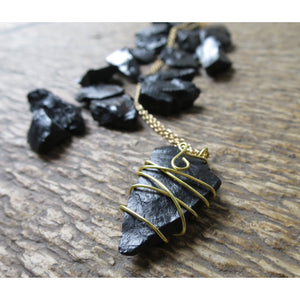 Shungite Miracle Pendant Premium
Sale price Price $ 15.00 Regular price
Shungite has gained much popularity around the world due to its miraculous healing and protective powers.This is definitely a stone all human beings should have in their possession.
As written in the book " Shungite-The stone Savior" by A Doronina
"Shungite cures, rescues,heals, protects normalizes,restores,and even stimulates the growth. Amazing stone, it kills and devours anything that harm people or other living beings,and concentrates and restores all that is good. the scholars that have studied Shingle in one voice declare, it is a miracle!"
We must take note of this special gift provided by our creator to help us all to live a safe and healthy life. It is truly a gift that all should have access to.
Choose Your Style
Each pendant is hand wrapped in your choice of gold or silver tone wire. Each Shungite Miracle pendant comes matching  gold or silver tone chain with lobster style clasp.
Chain length is 18 in.
Please note: This product is natural Shungite from Russia. Each piece is unique. Please be aware that size and shape may vary from the images shown in he photo. 
Each Shungite pendant is blessed and charged in an Amethyst catherdral before shipping for optimum energy. 
 Also See Shungite Miracle Pendant Raw