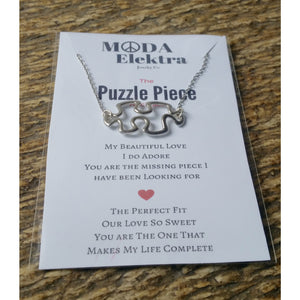 The Puzzle Piece Charm Necklace
Sale price Price $ 9.99 Regular price
It is often hard to find the perfect fit. We go through many relationships only to realize we are not truly comparable. Like 2 pieces of a puzzle that just cannot connect.
But when you finally find  "The One" You know it instantly. Everything seems flow and you get that feeling that you have known each other for your whole lifetime. A  comfortable feeling with no pretense.
When that happens, You have found your missing puzzle piece and now your life seems  complete.
The puzzle piece necklace was created as a special keepsake jewelry piece to give to the one you love.
Necklace measures 18 inches. Size can be customized upon request.